Borehole Pump Installation Service
Dales Water has significant experience of designing submersible water pumps and surface pumping systems whether working with our own borehole installations or those provided by third parties.
Borehole Installation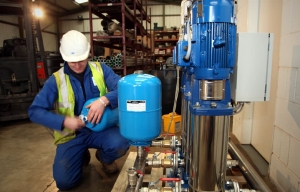 Following borehole / water well drilling, and where necessary pump testing, Dales Water will design the appropriate pumping system to suit the clients requirements. The characteristics of the borehole and available groundwater along with the needs of the end-user in terms of flow-rate and delivery pressure will all be taken into account during the design process.
Working to the highest standards Dales Water will complete the construction of a bore-head chamber and headworks to our own specification and where necessary the clients derived specification. All connections to new and existing water delivery pipework will then be made with adherence to current legislation.
Surface, Spring and Mains Pumping
In instances where the construction of a borehole is not a geologically viable option, alternative water sources such as spring or low pressure mains water supplies can be stored, treated and the delivery pressure improved to meet the demand of a particular site.
Dales Water are able to design, specify and install systems which are bespoke to the situation.
Pump Maintenance and Servicing
The company is ideally placed to help our clients' systems to operate to their maximum potential throughout the lifespan of the component parts. With comprehensive workshops, storage areas, testing facilities and service vans, Dales Water can remove and recover failed pumping equipment quickly and supply and install the necessary replacement equipment where repair proves impossible at short notice helping to ensure minimum interruption to the water supply.
DAB e.sybox Pumping System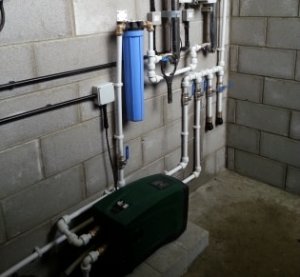 Dales Water are fully approved DAB e.syline partners and provide the full range of e.syline products including the e.sybox pressure boosting system.
The e.sybox is a new solution in water pressure boosting for residential and light commercial applications. Dales Water have used the e.sybox for numerous applications and can advise customers on whether the e.sybox system is right for them.
The e.sybox has numerous advantages over traditional pressure boosting system in that's it's easy to install, fits in tight spaces, operates almost silently and benefits from modern technology to work more efficiently.
You can learn more about the DAB e.sybox and it's associated products on the dedicated e.syline section of our website.