e.sybox Booster Pump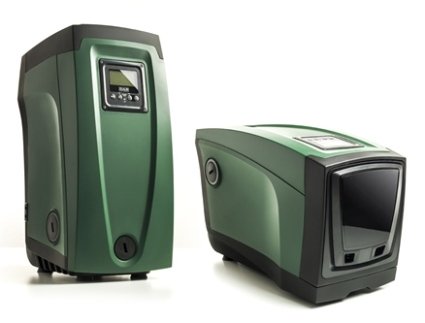 About the e.sybox Booster Pump
The e.sybox is a cutting edge solution to cold water pressure boosting for residential and light commercial applications. This single pump, water cooled booster pump with an integrated high efficiency variable speed motor has a number of advantages when compared to other water boosters on the market.
The e.sybox is built with an integrated electronic system that has inverter technology making the pump ultra efficient and easy to maintain. The pump is housed in a sound-proof case and only produces 45dB noise when running.
The big advantage of the e.sybox is the design; it's suitable for a wide range of installations. It can be installed horizontally or vertically, and it fits easily in confined spaces thanks to being 30% smaller than most conventional booster sets on the market.
Set up is extremely simple too, just connect the e.sybox to the power supply and suitable storage tank and you will have the water you require. To see the e.sybox in action please arrange a visit to our showroom in Melmberby, North Yorkshire where you can see the product in action. We're the only DAB e.syline partner in the North.
The features and design of the e.sybox make the system easily adaptable to any type of installation. Check out some of it's key features below:
Water cooled motor and sound dampening casing creating the quietest booster pump available today

Energy efficient variable speed motor operating from 0.3 KW to 1.5 KW

Powerful performance Flow up to 2 Litres/second and head up to 6 Bar

Self priming down to 8 Metres

Dry running protection

Frost protection

Anti-vibration mountings

Flexible installation with Horizontal or vertical position and wall mounting accessory kit

Variable positions for in-let and out-let pipework

Integrated chamber with expansion vessel, tool kit and installer manual

Wireless connectivity and modular design can expand the pump system up to a 4 pump booster set

Integrated modular water storage tank system with Cat 5 connection
Too see the e.sybox in action please arrange a visit to our showroom in Melmberby, more details can be found here. If you have any questions about the product give us a call on 01765 640 646.
As an approved DAB distributor all customers benefit from a special extended 3 year warranty. Our experience working with domestic and commercial water supplies since 1979 gives us vast experience with water boosting technology and we are able to pass that advice onto you.
e.sybox is a fully integrated system by DAB for water pressure boosting. The innovative technology means the e.sybox does not require any additional component for its installation because it consists of a self-priming multistage pump, electronics for control and management, pressure and flow sensors, a high-resolution LCD orientable display and an integrated expansion vessel of 2 litres.
Efficient
Thanks to the Inverter technology, the e.sybox only draws the energy required, thereby avoiding wastage and saving money.
Versatile
It can be installed in a vertical or horizontal position be it in a ventilated room or in a recess / alcove
Silent
The pump is extremely quiet, producing only 45 dB in standard use. This is thanks to the watercooled motor and the protective casings made from sound-dampening ABS. The feet on the pump are also vibration-damping.
Compact
It saves 30% of space in comparison with a traditional system.
Easy to install and use
Maintenance is easy to the ergonomic design which has been designed to allow easy access to all working parts for cleaning and fixing. The pump also houses all the tools needed for both maintenance and the first installation including the user guide and the instrument for easy extraction of the cartridge of the non-return valve so you have everything you need in one place.
Wireless
The esybox is fitted with a wireless device to help connect other pressure booster sets and for connection to other DAB devices.
e.sybox Demo
e.sybox Technical Features
Do you have a question about the e.sybox system? Just fill out the form below and one of our team will get back to you. You can also arrange a visit to our head office that has all the latest DAB e.sybox products on display where we can talk you through them and advise you on what sort of system you require. Just call us on 01765 640 646.
[contact-form-7 id="4019″ title="DAB Esybox"]