e.sybox Mini Booster Pump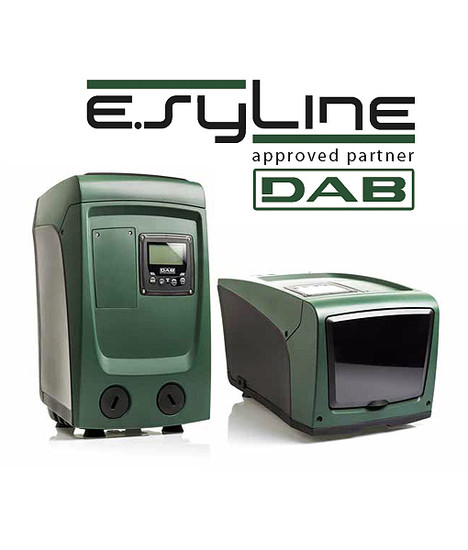 About the e.sybox Mini Booster Pump
New from DAB is the e.sybox mini, the little brother of the original e.sybox. The mini is the most compact and advanced booster pump system in the world and can be installed into the smallest of places. A virtually silent running noise combined with maximum performance the e.sybox mini is the perfect solution to solve any water pressurisation issues many residential environments.
The e.sybox mini makes used of proprietary DAB technologies, to ensure a consistent pressure based on actual demands, and therefore doesn't cause unnecessary energy consumption. Thanks to its versatility, e.sybox mini can be installed anywhere, even under the kitchen sink
The features and design of the e.sybox mini make the system easily adaptable to any type of installation. Check out some of it's key features below:
Guarantees consistent water pressure

Ultra low noise

No vibrations

Reduced energy consumption

Extremely compact size

Multiple installation options – horizontal / vertical

Can be installed on a wall thanks to e.sywall

Variable positions for in-let and out-let pipework

Integrated chamber with expansion vessel, tool kit and installer manual

Wireless connectivity and modular design can expand the pump system up to a 4 pump booster set

Integrated modular water storage tank system with Cat 5 connection
Too see the e.sybox mini in action please arrange a visit to our showroom in Melmberby, more details can be found here. If you have any questions about the product give us a call on 01765 640 646.
As an approved DAB distributor all customers benefit from a special extended 3 year warranty. Our experience working with domestic and commercial water supplies since 1979 gives us vast experience with water boosting technology and we are able to pass that advice onto you.
e.sybox is a fully integrated system by DAB for water pressure boosting. The innovative technology means the e.sybox does not require any additional component for its installation because it consists of a self-priming multistage pump, electronics for control and management, pressure and flow sensors, a high-resolution LCD orientable display and an integrated expansion vessel of 2 litres.
Efficient
Thanks to the Inverter technology, the e.sybox only draws the energy required, thereby avoiding wastage and saving money.
Versatile
It can be installed in a vertical or horizontal position be it in a ventilated room or in a recess / alcove
Silent
The pump is extremely quiet, producing only 45 dB in standard use. This is thanks to the watercooled motor and the protective casings made from sound-dampening ABS. The feet on the pump are also vibration-damping.
Compact
The e.sybox mini measures just 439 x 236 x 236 mm allowing it to fit into the tightest of spaces.
Inverter Reduces Energy Consumption
Thanks to the Inverter technology, e.sybox mini absorbs the necessary energy based on water needs, therefore avoiding unwanted waste, and ensuring significant economic savings.
New Motor
The new water cooled motor eliminates the noise caused by traditional cooling fans.
Easy Access to Technical Room
Removing the protection door provides easy access to the air vessel loading valve and the non-return valve, for quick and easy maintenance.
Anti-Vibration Feet
Ensure efficient absorption of vibrations, making e.sybox mini the most quiet running booster pump of its type on the market. They are designed for both horizontal and vertical system installation.
Display
High resolution 70×40 mm LCD, adjustable for easy readability in the various installation solutions. The intuitive interface provides access to all the information, giving the possibility of customising the main settings based on the specific application.
Flow & Pressure Sensors
Integrated electronic pressure transducer and flow sensor at the delivery.
External Connections
They make it possible to select the most appropriate system inlets and outlets based on the installation.
Expansion Vessel
Integrated with the system, it has a 1 litre capacity and is certified for drinking water. Guaranteed for 5 years without the need of maintenance.
Non Delivery Valve at the Delivery
Easily removable for maintenance.
e.sybox Mini Commercial
e.sybox Mini Display
e.sybox Mini Wall Install
Do you have a question about the e.sybox mini system? Just fill out the form below and one of our team will get back to you. You can also arrange a visit to our head office that has all the latest DAB e.sybox products on display where we can talk you through them and advise you on what sort of system you require. Just call us on 01765 640 646.
[contact-form-7 id="4019″ title="DAB Esybox"]