DAB e.syTank 500Ltr Cat5 tank for use with e.sybox pump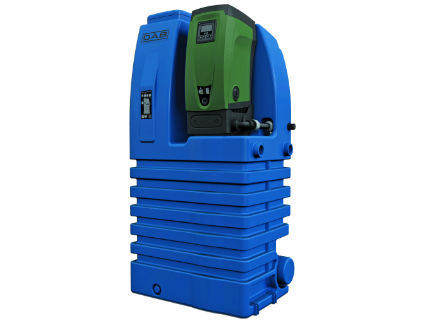 About the e.sytank 500Ltr Cat5 Tank
The e.sytank is a modular water storage tank and pump system. This is a full end to end solution and comes integrated with the e.sydock station.
The tank allows the user to increase their water storage capacity as well as create a twin pump duty assist or a duty pump standby system.
The e.sytank unit incorporates in & out pipework connections.
Designed ideally for larger residential properties or light commercial requirements.
To see the e.sybox and e.sytank in action please arrange a visit to our showroom in Melmberby, North Yorkshire.
We're the only DAB e.syline partner in the North of England and customers benefit from an extended guarantee and our knowledge of pumping systems.
The features and design of the e.sytank make the system easily adaptable to any type of installation. Check out some of it's key features below:
e.sydock (special version) for quick connection.

Suction hose with foot valve

Filling valve from the water supply with float

Overflow

Flow connection

Preparation for ground mounting

Inspection plug
Too see the e.sybox and e.sytank in action please book a visit to our showroom in Melmberby, more details can be found here. If you have any questions about the product give us a call on 01765 640 646.
As an approved DAB distributor all customers benefit from a special extended 3 year warranty. Our experience working with domestic and commercial water supplies since 1979 gives us vast experience with water boosting technology and we are able to pass that advice onto you.
Do you have a question about the e.sybox and e.sytank system? Just fill out the form below and one of our team will get back to you. You can also arrange a visit to our head office that has all the latest DAB e.sybox products on display where we can talk you through them and advise you on what sort of system you require just give us a on 01765 640 646.
[contact-form-7 id="4019″ title="DAB Esybox"]