DAB e.sytwin Docking System for 2 Units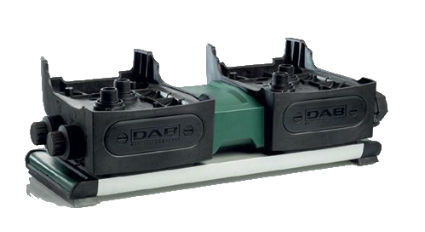 About the e.sytwin system
The e.sytwin allows for the seamless creation of two groups of pumps.
The benefit of using an e.sytwin system means constant water supply thanks to the backup function.
The new software algorithms built into the e.sybox constantly analyse the operation of the system and can alternate between the two units to ensure pressure and reliability of supply.
To see the e.sybox and e.sytwin in action book a visit to our showroom in Melmberby, North Yorkshire. We're the only DAB e.syline partner in the North of England.
The e.sytwin offers fantastic performance due to the possibility of combined operation with a reduced size of 50% compared to any other equivalent traditional booster system.
The wireless interface handles the communication between the two units, e.sydock ensures the hydraulic connection and it is thanks to this technology that e.sytwin does not need any other additional components for its installation and operation

Functionality of the group viewable on every single display
Too see the e.sybox and e.sytwin system please arrange a visit our showroom in Melmberby. If you have any questions about the product give us a call on 01765 640 646.
As an approved DAB distributor all customers benefit from a special extended 3 year warranty. Our experience working with domestic and commercial water supplies since 1979 gives us vast experience with water boosting technology and we are able to pass that advice onto you.
Do you have a question about the e.sybox or e.sytwin system? Just fill out the form below and one of our team will get back to you. You can also arrange a visit to our head office that has all the latest DAB e.sybox products on display where we can talk you through them and advise you on what sort of system you require. Just give us a call on 01765 640 646.
[contact-form-7 id="4019″ title="DAB Esybox"]