Sometimes our work means going to some interesting, and nice, places, meeting good people who are on interesting adventures.
Cooper King Distillery, who make unique, and special gins and whiskies, run by Abbie and Chris, was just one of those jobs and our director, Jonny, got involved to improve and treat their water supply that would be an important part of the manufacturing process. Here we look at how our works progressed, from start to finish, for Abbie and Chris…..
After an initial telephone enquiry and site visit the potential for a borehole water supply was discussed with Jonny, as Abbie and Chris were keen to exploit the potential uniqueness that a borehole water supply can provide to a bespoke, independent, distillery, the water being part of ingredients can make a difference to the taste of the product. Jonny carried Hydrogeological Assessment of the site to see if this was a viable option, confirming that unfortunately it was not a good prospect as the underlying geology was unlikely to provide a good volume and quality of water that would be suitable for the process. In these circumstances we will always be up front with relevant information to aid in client decision making.
The site had mains waters as an alternate option for water supply so this was then discussed further. However, this had issues for the production process which was explained to Jonny by Abbie and Chris. When water was required for production a large volume was needed over a short duration and the mains supply would not be able to keep up. Furthermore, mains water is heavily treated including treatment with chemicals that cannot be passed forward into the product. All mains water being dosed with chlorine. Therefore utilising mains water had problems that would need to overcome. Dales Water also works with mains water supplies as Jonny explained.
Chlorine is a powerful bacterial control mechanism that provides a residual disinfection in the water and although other more effective treatments are now available it still forms the basis of mains water bacterial control, it historically revolutionised water treatment, the outbreak of water borne diseases when it was introduced and is also very cost effective. The drawback is that it is not desired in drinks manufacture, chlorine can be tasted and as more research is being carried out concerns are being raised about health implications of it being in water used as a drinking and a bathing water source.
Therefore these two problems were discussed and Jonny proposed water treatment to firstly remove the chlorine in the water through activated carbon treatment.
Activated carbon is used to absorb natural organic compounds, improve taste and odour and importantly, in the case of what was looking to be achieved by Abbie and Chris, remove synthetic chemicals.
Furthermore, the instantaneous volume and flow requirements were discussed and it was concluded to provide a break tank, holding a good volume of water to provide a reservoir, to pump against and an energy efficient pump selected to boost that water on at a given flow rate for production purposes. Lastly, soft water was also required so a suitable water softener was selected and because the chlorine, for bacterial control, had been removed an ultra violet purifier provided to provide point source neutralisation for bacteria (if any were to occur). Jonny explained that ultra violet purification had the benefit of having no impact or bearing on the taste of the water, leaving no residual but being highly effective at treating for bacteria destabilising their nucleus.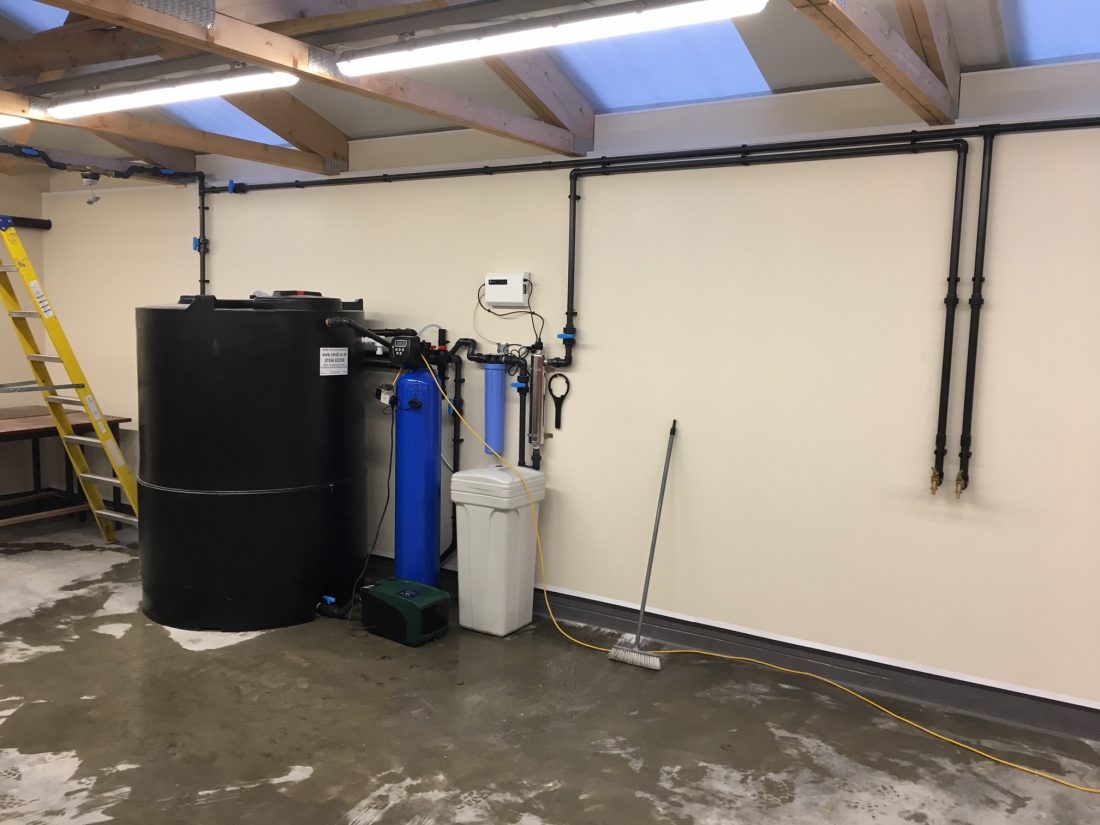 During January 2018 the equipment was organised, supplied and installed by Dales Water to assist Abbie and Chris in their exciting and challenging venture.
Director at Dales Water Services, Jonny Dalton, had this to say 'We work a lot within the drinks manufacturing industry but occasionally come across people and businesses that are unique and fresh in their thinking about what they are looking to achieve. Abbie and Chris, with their business Cooper King Distillery, near York, are definitely this and I'm very pleased that we could help them on their journey with our specialist knowledge and ability to design and install water treatment and boosting'.
Chris, co-founder at Cooper King Distillery made comment 'working with Dales Water was an absolute pleasure. Jonny understood our need to be in absolute control of the water going into our products, and the importance of having a reliable, clean supply. We can now start distillation of our gin and whisky this spring, having great confidence in the system Dales Water have installed.
More information on Abbie, Chris and Cooper King Distillery can be found on their website at www.cooperkingdistillery.co.uk