e.sylink Wireless Connector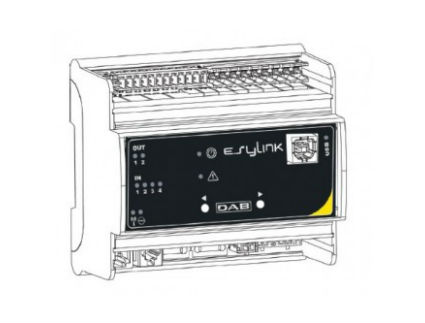 About the e.sylink
The e.sylink is DAB's new accessory to provide wireless connectivity to the DAB e.sybox.
Using the wireless interface 802.15.4 it allows the e.sybox to use various digital inputs such as a pressure switch, float, etc.
This can then control 2 relay outputs for example an alarm system.
It also gives the possibility of connecting an auxiliary pressure sensor.
To see the e.sybox in action along with an e.sylink connector please arrange a visit to our showroom in Melmberby, North Yorkshire where you view our range of DAB products.
We're an approved DAB e.syline partner able to provide stock ready express delivery service, technical support and advice.
The e.sylink will communicate with numerous DAB e.sybox pumps

Easily upgradeable firmware via PC

Can be installed on DIN modules in standard electrical boxes (6 modules)

LED for status indication and alarms

Includes E.SYLINK, USB cable, electrical box 8DIN, power supply and 3 cable gland
Too see the e.sylink in action please arrange a visit to our showroom in Melmberby, more details can be found here. If you have any questions about the product give us a call on 01765 640 646.
As an approved DAB distributor all customers benefit from a special extended 3 year warranty. Our experience working with domestic and commercial water supplies since 1979 gives us vast experience with water boosting technology and we are able to pass that advice onto you.
Do you have a question about the e.sylink and e.sybox systems? Just fill out the form below and one of our team will get back to you. You can also arrange a visit to our head office that has all the latest DAB e.sybox products on display where we can talk you through them and advise you on what sort of system you require. Just call us on 01765 640 646.
[contact-form-7 id="4019″ title="DAB Esybox"]