Horizontal Directional Drilling Services
Dales Water Services Ltd provides horizontal direction drilling and trenchless drilling services to areas throughout England, Scotland and Wales. Our clients include major construction & utility companies and private individuals. Companies choose Dales Water due to our quality of work, our attention to detail and our commitment to Health and Safety and Environmental issues.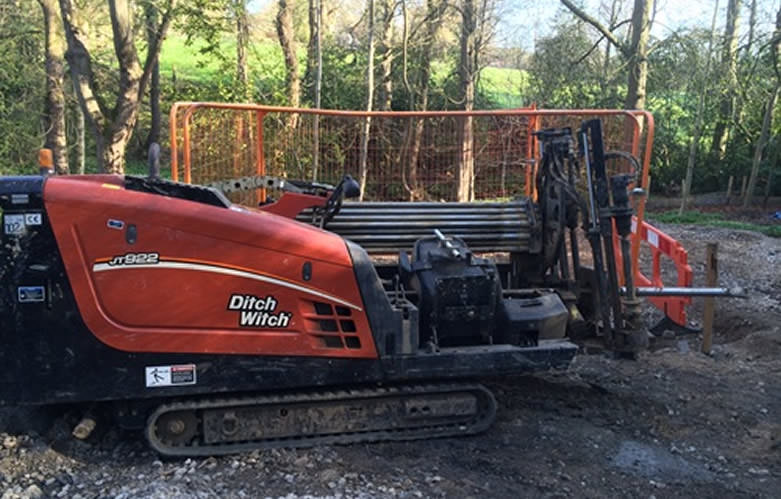 The Dales Water Drilling team have installed pipelines under rivers, waterways, motorways, concreted areas, lakes and ponds with minimum disruption to landscapes and significant cost savings to the client. Its quick, efficient and no trenching is required.
Why you should consider Directional Drilling
Directional Drilling can be carried out with minimal disturbance. There is no disruption to road or concrete and no scarring of the landscape or ground. Directional drilling is also unaffected by above ground obstacles such as buildings and trees or by existing services. T In many cases this leads to significant cost savings when compared to traditional trenching methods.
Another big advantage of directional drilling is that it can be carried out in various types of soil, dirt, clay, gravel, cobble and rocks. The ground conditions can affect the lengths and size of the holes and the trenchless drilling rig used will vary depending on it's pullback capacities.
About our Directional Drilling Equipment
Dales Water use a number of Directional Drilling Rigs all capable of differing pullback capacities. This allows us to install a large range of lengths and diameters. The equipment used when undertaking a direction drilling job depends on the diameter of the pipeline to be installed, length of the installation, and the ground conditions through which the drilling will be carried out.
To deal with various ground conditions different drill heads are required that can deal with easier conditions including soft clay to much tougher conditions including rock and dense sand.
How Trenchless Drilling Works
Directional drilling is a guided trenchless drilling technique, firstly a pilot hole is drilled to a suitable diameter.
Various lengths of pipe can then be installed without the need for intermediate trenches. The pipes can either be installed in a straight line or curved to avoid obstacles or existing pipelines. This lowers disruption to the landscape compared to normal open trenching methods.
Throughout all stages of the installation a drilling fluid is pumped to the tip of the drill head or back reaming tool. This fluid is used to aid in the disposal of cuttings, strengthen and stabilise the hole, cool the drill head and finally allow to remove friction when installing the final pipeline. The type of drilling fluid used is carefully selected based on the properties / constituent parts of the ground being drilled.