Specialist Pump Pulling
When submersible pumps in boreholes fail or break down they are sometimes too large and too deep to pull by hand or via pulley. In some cases it's unfeasible or the health and safety risk is too great to even attempt it by hand. Our spider crane is the ideal solution. Manned by highly trained and experienced staff, our spider crane can be mobilised quickly and is able to retrieve borehole pumps from deep boreholes in the tightest of spaces.
Our specialist spider crane pump pulling and associated infrastructure service is quick and cost effective. The crane's compact size allows it to get into tight spaces and travel over a wide range of terrains where traditional lorry mounted cranes can't get to. Despite it's small footprint the crane can still lift up to 2.9 tonnes  making it capable of lifting variety of medium and heavy borehole pumps which need to be removed or installed into a borehole.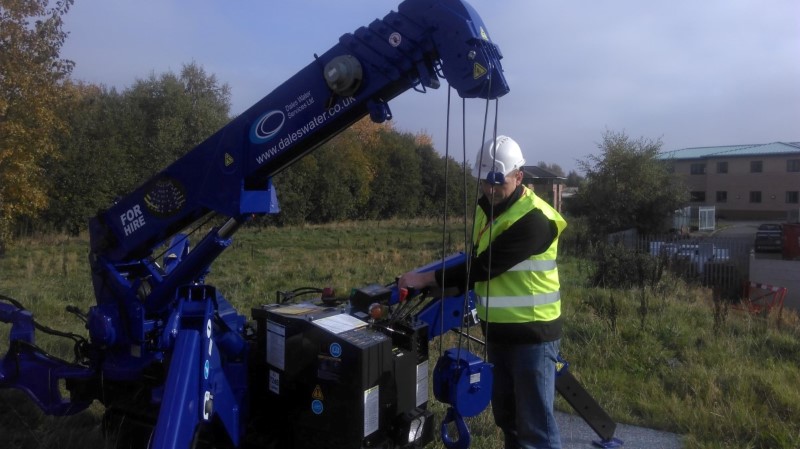 Key Benefits of Our Spider Crane
Quick to deploy

More effective than traditional city / lorry mounted cranes

Able to lift heavy and large borehole pumps

Can lift large borehole infrastructure and rising mains

Compact size

Can travel and operate on softer ground
Why Choose Us?
Over 30 years experience with boreholes

Proven track record delivering on time and to budget

Specially trained mini crane operators

Wealth of knowledge of varying types and sizes of borehole pumps

Committed to health and safety

Knowledge working on numerous sites including construction, rail, industrial and agricultural
The Problem With Traditional City Type Cranes
Whilst traditional truck mounted cranes can sometimes be used to install or retrieve a borehole pump they have a number of problems. They have long lead times, require a lot of planning and are prohibitively expensive. This can often lead to increased down time without borehole water which can cause big problems for both domestic, agricultural and industrial borehole water users.
The logistics when using one are also problematic. Lorry mounted cranes require a lot of space and cannot travel or operate on softer ground. This makes them impractical for a lot of borehole sites where space is tight and soft, uneven ground is commonplace.
About our URW – 295 Mini Spider Crane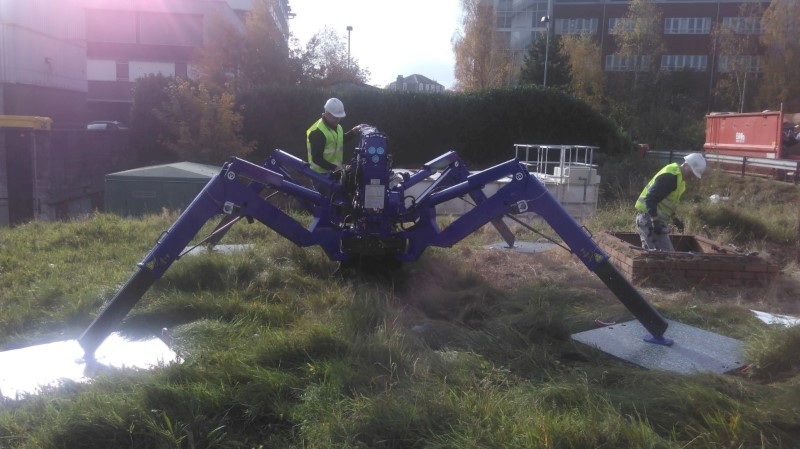 The URW295 Mini Spider crane is currently the leading compact crane on the market. At just 60cm (24 inches) wide, allowing it to travel through a standard doorway on it's versatile rubber tracks. Suitable for use on various terrains and even indoor use thanks to it's lightweight design allowing the crane to be moved from floor to floor in a standard freight elevator or over soft uneven ground.
Alongside it's flexibilty, the URW295 has a continuous rotation of 360 degrees and a maximum lifting capacity of 2.9t  (6500lbs). With an extremely variable geometric footprint thanks to adjustable outriggers. (52 different positions) the crane can be set-up in tight spots such as rooftops, domestic properties. As an added feature, the URW295 model comes equipped with a wireless radio remote control system; freeing the operator from being tethered to the crane for unlimited positioning.
Our Spider Crane in Action
Technical Specification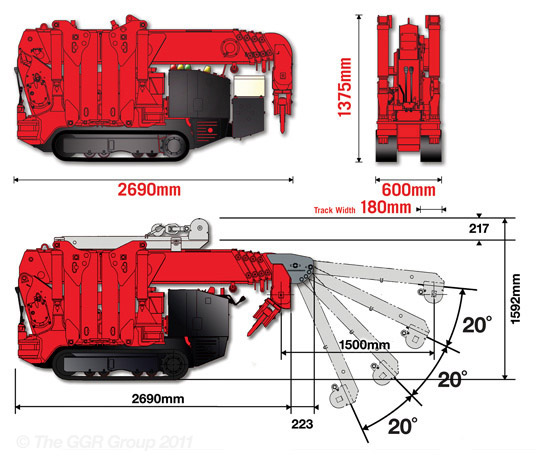 | | |
| --- | --- |
| Crane Capacity | 2.9t x 1.4m |
| Max Working Radius | 8.41m |
| Max Lifting Height | 8.8m (9.8m with fly jib, 10.47m with fixed hook) |
| Rope Length | 14.12m (4 fall), 29.24m (2 fall), 59.47m (1 fall) |
| Dimensions When Folded | 2690mm (2905mm diesel & electrical dual) (l) x 600mm (w) x 1375mm (h) |
| Weight | 1850kg |
| Hook Speed | 10m/min (with 4 layers and 4 falls) |
| Boom Length | 2.53 – 8.65m |
| Telescoping Speed | 6.12m/20 seconds |
| Boom Type | 5 section hydraulically telescoping boom, hexagonal box construction |
| Derricking Angle / Speed | 0 – 78˚/11 seconds |
| Slewing Angle / Speed | 360˚ (continuous) 1.5min rpm |
| Traction | hydrostatic, stepless forward and reverse |
| Travel Speed | 0 – 2.3km/h |
| Gradability | 20 |
| Track Ground Length | 1050mm |
| Track Ground Pressure | 48kPa (0.49kg/cm²) |
| Track Width | 180mm |
| Fuel | 6 litre petrol tank with LPG option |
| Other Features | computer controlled moment limiter (safe load indicator), radio remote control, overwinding alarm, computer controlled intelligent voice warning system, multi-function operation by radio remote control, intelligent throttle activation, automatic hook stow, overload warning alarms, overload warning lamps, working area limitation |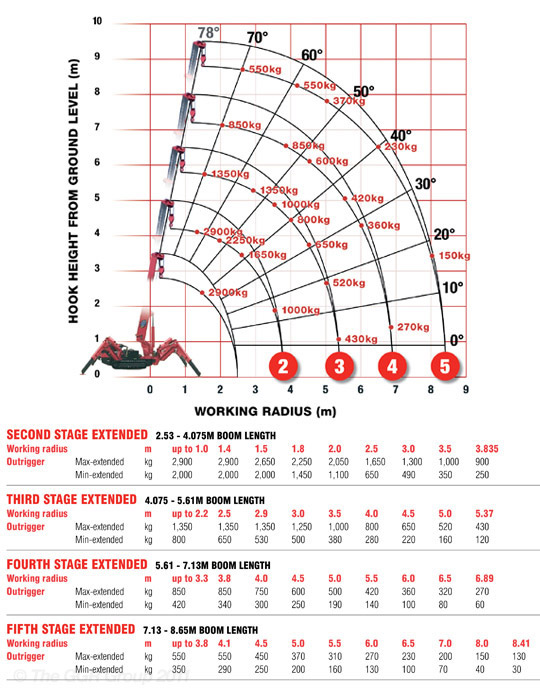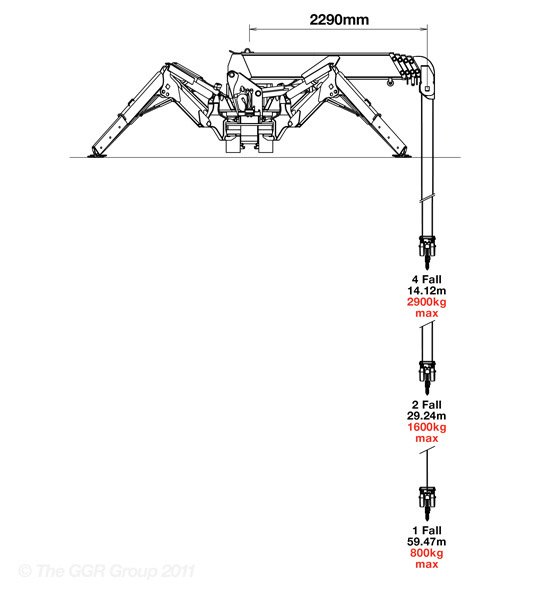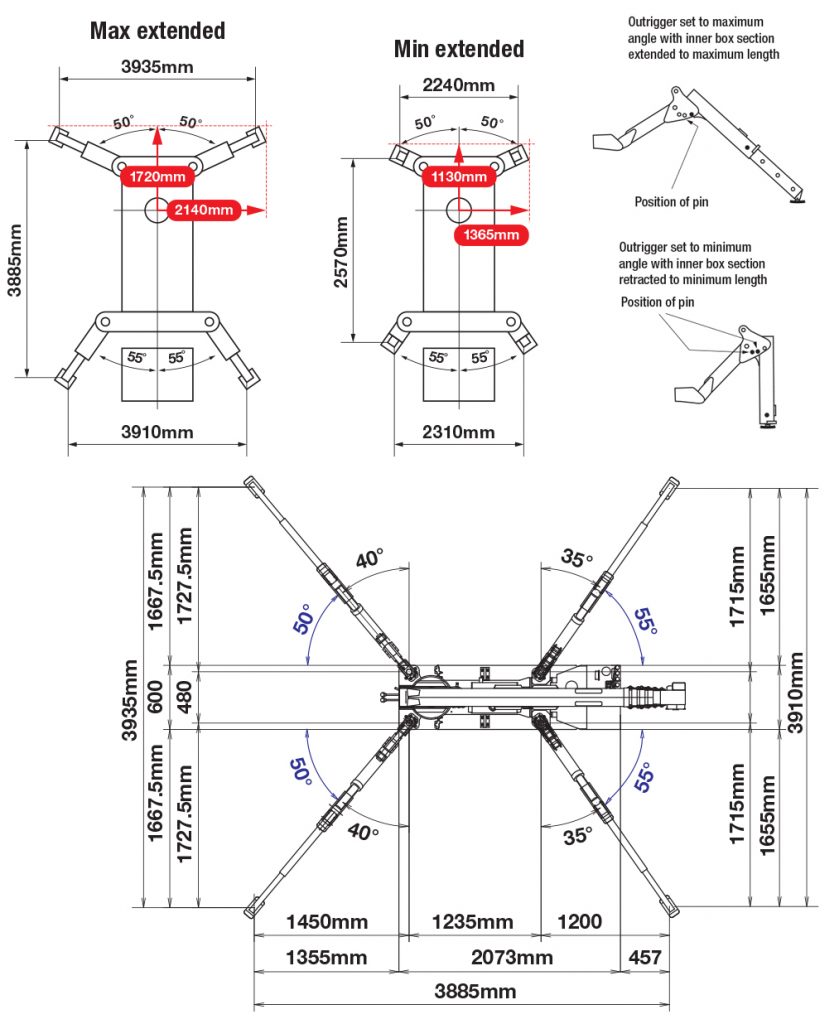 Areas Covered
North Yorkshire – Harrogate, Ripon, Yorkshire Dales and the Lake District

South Yorskhire – Barnsley, Sheffield, Doncastet

West Yorkshire – Bradford, Leeds, Ilkley

East Yorkshire – Hull, Google, Bridlington

Scotland

Wales

Lancashire and Greater Manchester

Cumbria

Northumberland

The Midlands
Talk To Us
Does your heavy borehole pump need installing or removing?
Speak to a member of our team about how our spider crane can help.
Talk To Us