Leak Detection Services
A leak in your water supply is not only frustrating but potentially very costly.  Our leak detection equipment can find leaks quickly and efficiently allowing the problem to be fixed without unnecessary digging or excavation work.
Our engineers are trained and equipped with all of the latest equipment, allowing them to pinpoint leaks on water supply pipes, either within a property or externally.
We can locate leaks on all pipe sizes and lengths in both concreted and non-concreted areas via the use of an amplified listening device. The device can also track the course of a pipeline by vibrating the line at one end if required. When a leak is present there is a change in noise against the standard background sound. This is then investigated further.
Once a position is identified we can dig in a specific area and repair any leak if present. This approach is much more cost effective than digging up and reinstating large areas.
Can You Guarantee You Will Find The Leak?
Leak finding is not an exact science so there are no guarantees. In some cases there might not even be a leak even though all the initial 'signs' point to one. However, our engineers have a high success rate at locating leaks using our amplified listening device.
Our Equipment – The AquaTest T10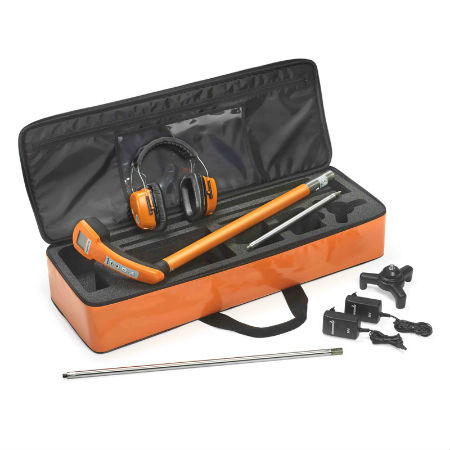 Our engineers are trained on the use of our AquaTest T10. This electroacoustic listening stick and ground microphone has been specially designed to find and locate water leaks in water distribution networks.
Designed for single handed use the T10 has a receiver and microphone combined in one unit. The wireless headphones are activated by a touch sensor. The water leak noise level (volume) that you can hear is also shown on an LCD display.
Also on board is a Digital Radio radio that allows sound to be transmitted, with no interference or loss, from the T10 to the SDR headphones. There are no cables to the headphones to restrict movement or get in the way.
The inbuilt frequency filters to allow our engineer to filter out unwanted frequencies and to concentrate on the water leak noise.
Key Features of the AquaTest T10
Electroacoustic ground mic and Listening Stick/ Test Rod with Digital Wire free headphones

Ergonomic design ensures easy non-tiring operation when finding water leaks in private water supplies

Robust construction for intensive outdoor use

Water leak noise amplification with high fidelity headphones

Displays the water leak noise, including previous Minimum Noise Level, to reinforce what the user hears

No irritating interference noises in the headphones, thanks to the new type of touch-free activation sensor

Range of noise frequency filter bands and DHP (Digital Hearing Protection) for optimum leak noise recognition and operator safety

Tripod adaptor and new wind insulated base making the T10 a cost effective ground microphone to locate water leaks
Benefits of Using Our Leak Detection Services
Cost effective

Quick to deploy

High success rate at finding leaks

We operate throughout Yorkshire & The North
Why Choose Us
Over 30 years' experience with boreholes

Proven track record delivering on time and to budget

Staff specially trained to use our leak detection apparatus

Wealth of knowledge of varying types of leaks and where they might be

Committed to health and safety
If you think your water supply has a leak or there are discrepancies in your meter readings please contact us for advice.