Last year we were lucky enough to feature on BBC Radio 5 Live and this year we have made our television debut albeit by chance as one of the Dales Water Service & Maintenance Vans featured in Episode 4 of this years series of the ITV show 'The Dales'.
Now in it's third season and pulling in over 4 million viewers the show is presented by Adrian Edmondson who travels across The Dales and shares stories of day to day life of the people who live and work there.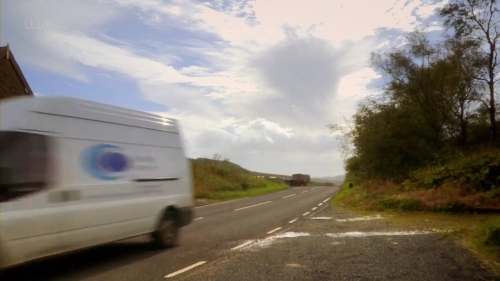 Being a Yorkshire Dales based company and all of our staff living across the region many of us are avid watchers of The Dales and we were all extremely surprised when one of our vans was captured on camera driving through the area filming was taking place.
You can find the clip on ITV Player which originally aired on Monday 10th June 2013 or check out the GIF we made below. Our van features at around 7 minutes 30 seconds during a segment about The Little White Bus, which helps people get around the Dales where many of the bus services are infrequent.
We're not quite sure where the clip was taken or where the driver, Karl, one of our engineers was heading to but needless to say he was visiting one of our customers somewhere in the Dales most likely to undertake a borehole maintenance project or a borehole pump repair.
About Water Supplies in the Yorkshire Dales
It's worth noting that large areas of the Yorkshire Dales are completely dependent on borehole and spring water supplies.
With mains water not an option in many areas of the Dales, without utilising borehole water many businesses would struggle to survive and plenty of homes or farmhouses wouldn't be able to have a running water supply making life extremely difficult.
The clue is obviously in our name and we have hundreds of customers across the Yorkshire Dales who all make use of our private water supply services for a variety of applications be it private residents, farms, caravan parks, golf courses and several country estates – many of which have been featured in the previous episodes of the show, including yesterdays episode (17th June 2013) that visited Ripley Castle who we assist with their spring water supply.