With summer now finally arriving the good weather has two big consequences for golf courses – 1. More people playing golf which is fantastic news for them but 2. Much more water is required to look after the golf course and keep it in tip top condition when under heavy use.
During the height of summer a golf course requires lots of water for the irrigation of tees, approaches and greens and on some courses even the fairways. The grass has to be kept in optimum condition for tournament play and to ensure that all paying members are able to play golf on the best possible surface.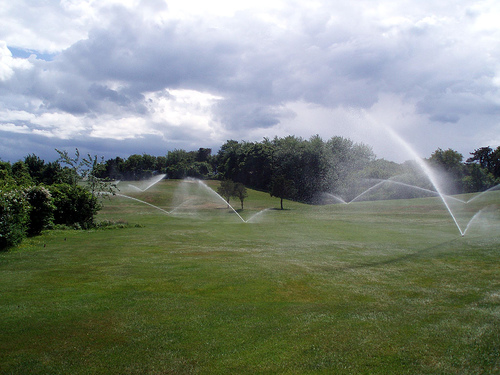 Many golf courses have already recognised the benefits of having a borehole to supply water to their course because it's far more economical over a mains water supply (and continues to be more so year on year with mains water increases.) A borehole also has the benefit of being able to provide a better volume and pressure of water than a golf course can get from a mains supply.
How Can Dales Water Help Golf Courses with their Irrigation?
We've helped a number of golf courses with their irrigation needs, be it a completely new install of a borehole or improvement works on a poorly constructed one.
We also have vast experience in working alongside existing golf course infrastructure such as water storage tanks, existing irrigation systems and delivery lines. Our team of engineers can incorporate a borehole system to deliver water to the existing systems to both save costs and to ensure they are all used to maximise efficiency.
Some green keepers often require a certain level of water quality and where necessary we can install water treatment such as pH correction to provide the exact quality of water that the green keeper needs to maintain his course to championship level.
In many cases because of the large volumes of water involved then abstraction licences are required, this requires lots of negotiation with the Environment Agency and plenty of paperwork but Dales Water has an in-house expert to deal with these requirements and ensure the process runs smoothly.
Some of the Golf Courses We Have Helped with their Irrigation
Championship Golf Course, Northumberland
Dales Water were contracted by the owners of an existing golf course in Northumberland who were building a second golf course and required a borehole to deliver into a lake that was already used for irrigation purposes on the existing golf course.
Following Hydrogeological Prognosis the borehole was progressed to a depth of 80m at 12" diameter. The borehole was marginally artesian and was boosted to supply by a suitable size 10" submersible pump incorporating variable speed control, to reduce electricity consumption.
Due to the volume of water required an abstraction licence was required and due to the complex nature of the abstraction licence regimes for golf course use Dales Water's in house abstraction licencing expert was contacted to complete the abstraction licence process.
The Golf Course now enjoys a high volume, virtually free borehole water supply to irrigate their championship golf course which will have paid for itself several times over.
Municipal Golf Course, South Yorkshire
Dales Water were contracted by an irrigation contractor who had previously had a borehole installed by another company as part of a new irrigation installation and golf course overhaul.
The previous company were unable to drill to the required depth and ended up having to abandon the job after 3 months. Dales Water attended the site and using one of our drilling rigs were able to drill the borehole to the required depth in 1 week bringing the project back within the deadline date and preventing more labour costs.
We were then commissioned to install the pumping plant on a fixed speed control incorporating and liaising with the irrigation contractor to deliver the water to the new irrigation system.
Again our in house expert was required to aid with abstraction licensing and to support the irrigation company in making sure the club could abstract the water they needed for their irrigation requirements.
Our Golf Course Irrigation Expertise
Can help golf courses choose the right variable speed pumping systems to ensure they deliver water when and where they need it most.
Installing water treatment to align with green keepers pH and water quality requirements.
Vast knowledge of the intricacies and requirements when a golf course needs an Abstraction Licence.
Can easily work alongside irrigation contractors to ensure all systems work seamlessly and efficiently.
If you're a golf course owner or involved in golf course irrigation and feel our borehole water services may be of interest to you, please contact us for more information.