Health and safety plays a big part in the way we do things at Dales Water and one area we pay a lot of attention to is the protective equipment worn and used by our staff working on drilling sites throughout the UK.
A number of our recent projects have required specialist PPE due to working with harsh chemicals (see our post on borehole acidisation) and on a number of sites we work on have bespoke PPE requirements.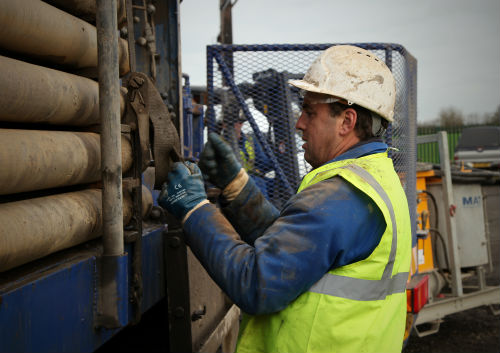 Choosing the Right Type of PPE
PPE is usually the last line of protection for our workers against hazards and the PPE chosen will depend on the work environment, the work conditions, and the work being undertaken.
Any PPE chosen by Dales Water has a specific use and will generally be made from specialized materials appropriate for one use, but not appropriate for another.
For example, everyday working gloves will protect against various drilling hazards but won't protect against chemical such as hydrochloric acid– for that a special type of thick natural rubber gloves or neoprene are required for protection.
Our process for selecting the right PPE to offer the required level of protection is as follows:
PPE is chosen based on the type of hazard and the degree of protection required.
PPE must be useable in the presence of other workplace hazards.
Staff are always trained in proper use and fit of the PPE.
PPE is correctly stored and maintained when not in use.
If any item of PPE is found to be defective, it is discarded and replaced.
Types of PPE Used by Dales Water
Head protection (hard hats) for protection against falling objects
Safety glasses for protection against UV rays, infra-red rays and flying objects, such as wood chippings, dust particles, stones and metal pieces
Earplugs or eardefenders for protection against noise from our drilling rigs
Safety footwear for protection of toes
Safety gloves for protection against contact with toxic chemicals and electric wires
Face masks for protection against fumes or chemicals used in cleaning of pumps and other equipment
Bespoke PPE – either in design or colour for use on Network Rail and other public sector drilling sites
An Example of Where Specialist PPE was Needed and the Processes Involved
One of our recent projects involved the use of large quantities of hydrochloric used that were used to increase the yield of an underperforming borehole drilled into a chalk aquifer.
Hydrochloric acid is corrosive to the eyes, skin, and mucous membranes so we had to take special precautions when using it.
After carrying out a risk assessment, we put in place the processes and the PPE to ensure the job was carried out as safely as possible.
All our engineers have had specialist training working with chemicals and this job required our team to wear chemical resistant boilersuits with hoods. The suits are coated with PVC and are sewn and welded at all the seams for total protection. Neoprene gloves, goggles and safety footwear were also required.
Our engineers were tasked with transporting the acid to the drilling site in intermediate bulk container and disposing of it after use into a fully lined skip that was then pH neutralised. With the right procedures in place we carried out the job both safely and successfully.
If you'd like to read more about our commitment to health and safety and the various training courses we have completed you can do so here.