In certain industries a higher specification borehole installation maybe required to ensure a business can operate successfully and profitably. This can be for a number of reasons such as the need to comply with government regulations, to ensure that final product (of which water helped produce) meets the required quality standards, the need to reduce operating costs when margins get squeezed by mains water bills or simply because the client wants the highest specification borehole possible.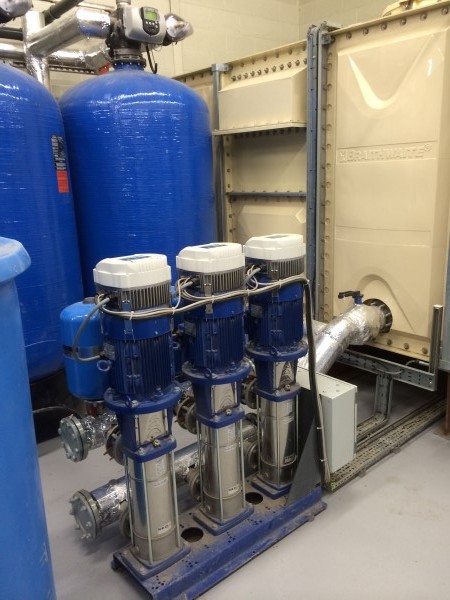 What is a High Specification Borehole?
The best way to explain a higher specification borehole is to give an example of where they are often needed – the food processing industry.
Food processors are one of the largest users of water in the UK as they require water during several stages of their operations and in some cases water is their end product. Efficiency is a top priority to maximise profit but perhaps more importantly hygiene is a major consideration as the business has a duty of care towards consumers of their products. Improper water hygiene standards and discharge of waste water which causes pollution can not only lead to bad press but also to prosecution and heavy fines.
It's imperative that businesses working with food for human consumption comply with regulations from numerous organisations including the Drink Water Inspectorate, Water Regulations Advisory Scheme, Environmental Health, Private Water Supplies Regulations and Water Resources Act. This means that for a borehole water supply to be compliant only certain types of materials can be used; this includes but is not limited to:
Stainless steel to certain grades
Plastic to certain grades
It also means that construction techniques used and the way in which the borehole water supply is finished need to be correct to ensure compliance, this includes but is not limited to:
Suffcicent and correct depth of borehole headworks
Correct sealing of borehole headworks
Chlorination of all components, equipment and tools used and pipelines
Conformity water analysis post installation or post water treatment installation
High specification doesn't just refer to the components of the borehole itself either; it also relates to the overall design and day to day running of the system. Therefore efficiency plays a big part in a borehole of this nature, we've worked on installations where every stage of water usage and processes are optimised to work as seamlessly as possible, in continual compliance.
Each stage of a food processing units processes for example transport, peeling, cooking, washing down, cooling and hosing down the yard are taken into account. That way the required quality of water can be identified for every step and scope for re-use defined.
Pumping efficiency can't be ignored and optimising the pumping system is a great way to save on electricity. It also prevents overworking of the infrastructure which can lead to costly replacements or repair works. This is done by pumping the right quantity of water through pipes of the right diameter, with the pump operating at the peak efficiency whilst consuming the least power possible, utilising the latest technologies. This rarely happens with an out of the box system where water is used in vast quantities and as such requires bespoke design which leads to large cost savings in the long run. By choosing the wrong type of pumping system or using an out of the box solution profitability can decrease.
An Example of Where High Specification Boreholes are Required
We recently worked on a new borehole installation at a food processing unit who were using mains water in such high volumes that it was costing in excess of £100,000 per year.
Our knowledge of the local geology meant after a simple investigation we discovered a productive aquifer that would be able to meet their demands.
With hygiene hugely important here the factory required a high specification borehole installation and we only used materials that complied with regulations by all of the relevant regulators involved.
After quoting for drilling, installation, treatment and handling all abstraction licencing paperwork our team got to work and the project was undertaken. Our desk study indicated that payback period would be in around 18 months and the factory now enjoys a reliable water supply that copes with their demand, reduces wastage and has cut their overheads significantly.
How Dales Water Can Help with High Spec Borehole Installations
Analyse water usage within your factory
Take a look at your mains water bill charges
Inspect your pumping systems
Identify alternative sources of water
Construct the borehole correctly and to the relevant requirements
Identify water losses / leakages
Ensure compliance standards are met
Apply for an abstraction licence and handle all paperwork
Design pipework, pump and treatment systems
Manage your complete water supply
If you'd like to discuss a high specification borehole or have any questions feel to contact us.