Dales Water Services Limited are pleased to announce Director Jonathan Dalton has successfully completed the Directing Safely for Small to Medium Enterprises course.
The course, approved and validated by the Institution of Occupational Safety and Health (IOSH), is designed for individuals with strategic responsibility for determining effective health and safety management and putting it into practice in their organisation.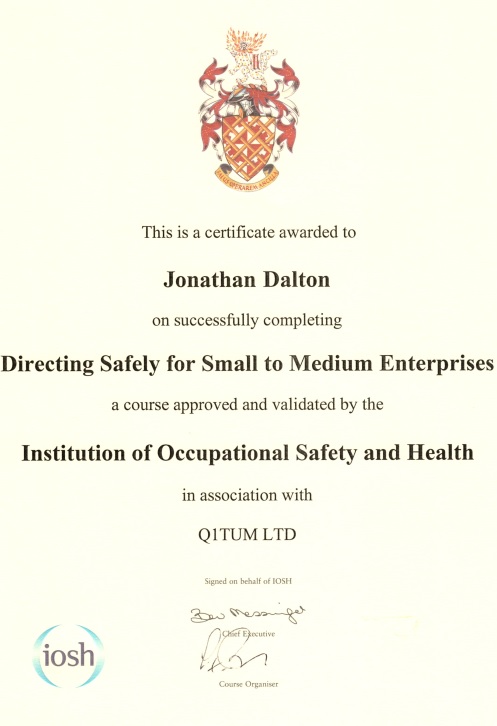 The syllabus contains several practical elements and a final examination carried out by training firm Q1TUM which was then sent to the IOSH for marking. The primary goal is to give key decision makers an appreciation of the moral, financial and legal issues relating to health and safety throughout the management process and looks specifically at:
Why direct safely?
Planning health and safety
Delivering health and safety
Monitoring health and safety
Reviewing health and safety
Identifying legal responsibilities
Strategy and the development of management systems
Policy arrangements for delegating health and safety responsibilities
Monitoring health and safety at board level
Understanding external influences
Jonny has played a huge part in adding to the thorough health and safety procedures within the business, putting staff through numerous training courses including forklift, angle grinding and first aid training courses in the last 18 months. Completion of this Directing Safely course further highlights that Dales Water are fully aware that the responsibility for managing health and safety starts at Director level. All staff must lead by example from the top down, and directors of the business, need to be involved in this process. Well done Jonny!