Hire a Mini Spider Crane and Operator from Dales Water Services Ltd.
Tight on space but still need heavy lifting power? Our URW-295 spider cranes are available to hire across the North of the England.
Whilst slender enough to fit through a standard door frame, this state of the art mini crane can still lift up to 2.9 tonnes; making it perfect for sites where space or access is at a premium. The URW-295 blends design, efficiency, work-ability and manoeuvrability which result in a crane that can carry out a wide range of lifting jobs. Whether it's lifting a pre-made garden building over a fence or erecting steel in a tricky location the URW-295 can do the job efficiently and safely.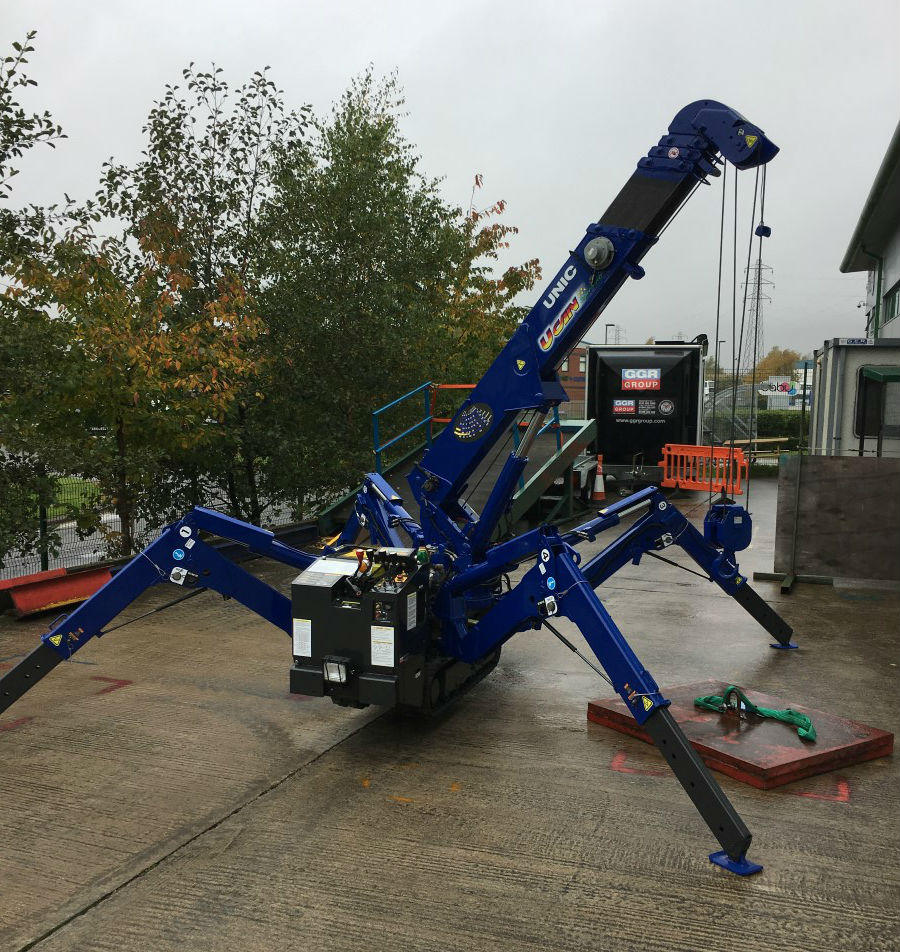 Typical Applications for Our Mini Cranes
A tracked spider crane can operate in areas where space is extremely restricted.  The tracked designs means they are perfect for moving across difficult terrain and setting up where ground is uneven. The lightweight and compact design of our spider mini cranes makes them ideal for being moved in construction lifts and working on low load-bearing floors. At only 60cm wide they are narrow enough to fit through a standard door frame. Some typical uses include:
Steel erection

All construction related lifting jobs

Restoration projects

Cladding installation and repairs

Simple lifting jobs in tight spaces – over garden fences, garages etc.

Plant maintenance

Railway maintenance

Glazing

Working on high rise buildings

Repair works inside factories

Heavy borehole pump removal and installation
About the URW-295 Spider Crane
The URW295 Mini Spider crane is currently the leading compact crane on the market. With a continuous rotation of 360 degrees and a maximum lifting capacity of 2.9t  (6500lbs) the crane is extremely versatile. Adjustable outriggers give a variable geometric footprint meaning it can be set-up in tight spots such as rooftops and small factories. As an added feature, the URW295 model comes equipped with a wireless radio remote control system; freeing the operator from being tied to the crane for virtually unlimited positioning.
2.9 tonne x 1.4m capacity

Total width: 0.6m

Max working radius 8.41m

Max boom length 8.65m

Petrol powered with LPG for indoor use

Operator control of outrigger extensions

Radio remote control

Built in safety features with voice warning system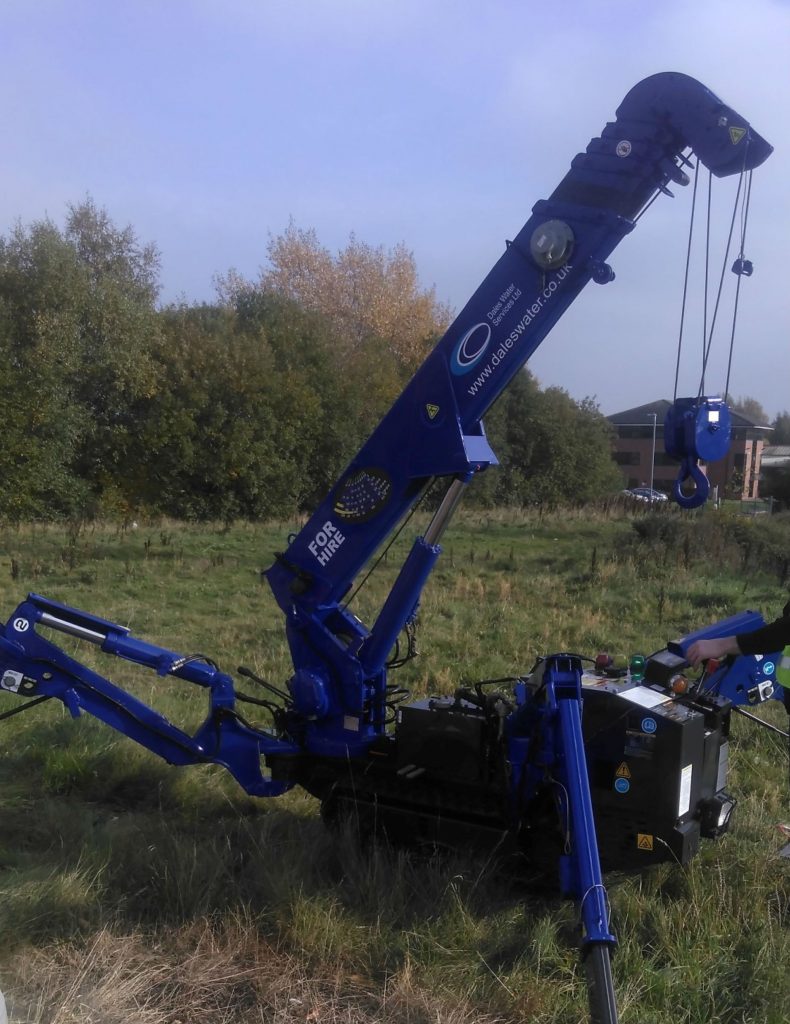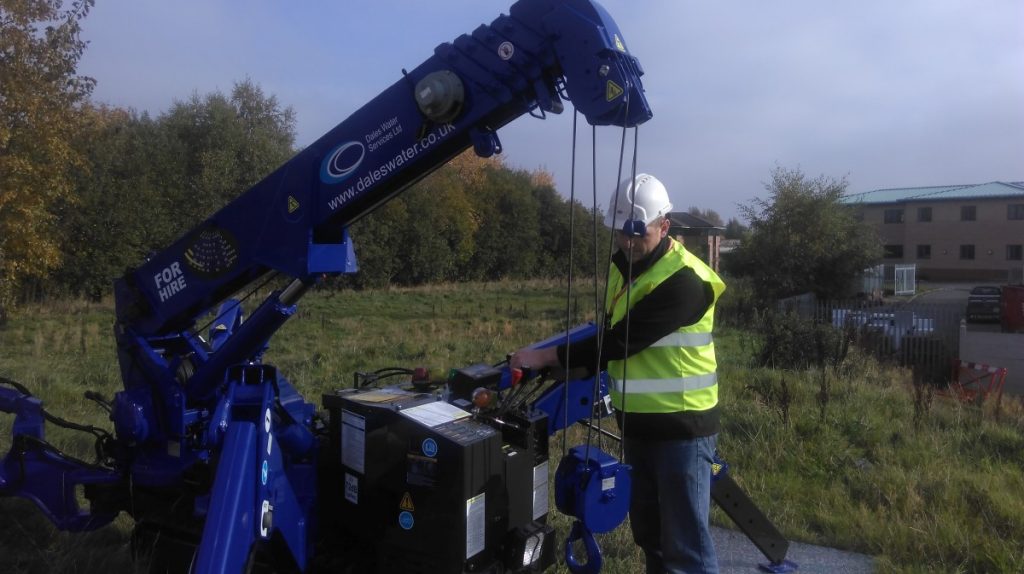 What You Get With Our Mini Crane Hire Service
Our CPA mini crane hire service gives you access to a mini spider crane and an operative who has received in depth training on how to use the crane safely.
A CPA service with a URW-295 spider crane

Crane delivered to your site by our trained operatives on a trailer.

Dedicated crane operator who has received specific training on how to use the crane safely.
Areas We Cover
We cover the vast majority of the North of England and some areas in Scotland. If your locality isn't listed below drop us an email and we'll let you know if we can help.
Harrogate

Ripon

Leeds

York

Bradford

Newcastle, Middlesbrough and Tyne & Wear areas

Yorkshire Dales

North Yorkshire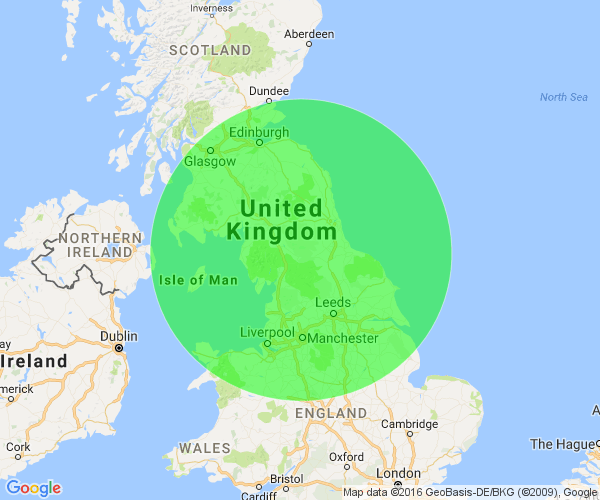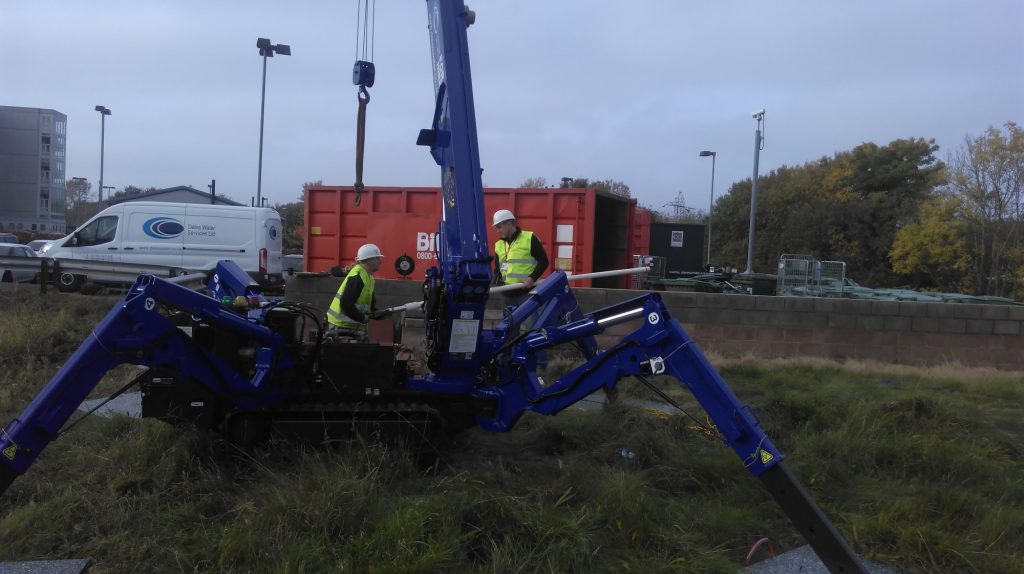 Why Choose Us?
Dales Water Services are first and foremost private water supply engineers. Our team work on both industrial and domestic sites that require lifting applications all year round. Because we use mini cranes to help complete our own projects, we're well placed to know their benefits, limitations and how to get the most out of them in a wide range of situations. It doesn't matter what you want to lift be it building materials, machinery or sheet plastic, we have the solution.
When you hire a mini crane from Dales Water, you get the best equipment but more importantly the operatives that know how to use it safely and effectively.
Trained operatives

Extensive knowledge working on construction sites, roadside, rail tracks and domestic properties

Heavily invested and committed to health and safety
Prices
Prices start from £400.00 per day (ex. VAT) with a trained operative. If you'd like to get a quote give us a call on 01765 640 646 email cranes@daleswater.co.uk or fill out the quotation form below. We aim to respond to all enquiries within 1 working day. Please note a mileage charge may apply over a 50 mile radius from our head office in Melmerby, Ripon. Our terms and conditions of hire apply.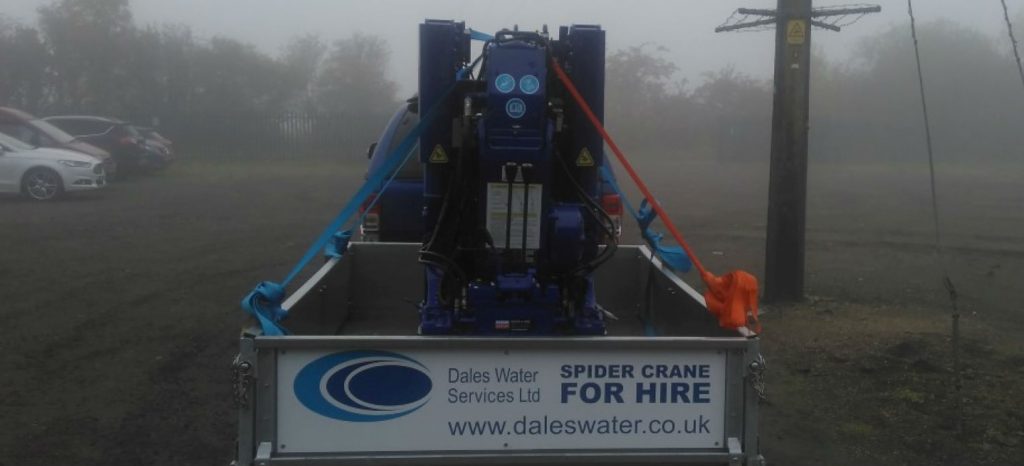 Technical Specifications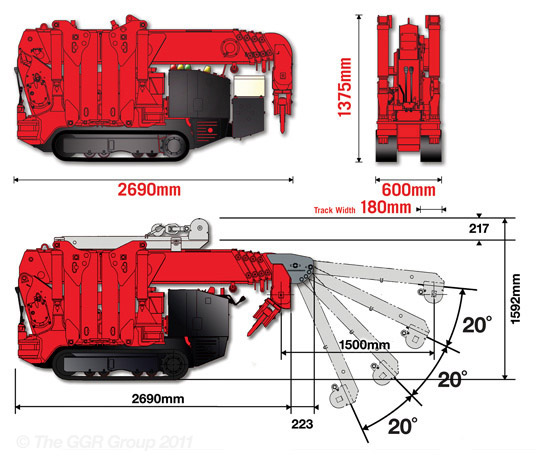 | | |
| --- | --- |
| Crane Capacity | 2.9t x 1.4m |
| Max Working Radius | 8.41m |
| Max Lifting Height | 8.8m (9.8m with fly jib, 10.47m with fixed hook) |
| Rope Length | 14.12m (4 fall), 29.24m (2 fall), 59.47m (1 fall) |
| Dimensions When Folded | 2690mm (2905mm diesel & electrical dual) (l) x 600mm (w) x 1375mm (h) |
| Weight | 1850kg |
| Hook Speed | 10m/min (with 4 layers and 4 falls) |
| Boom Length | 2.53 – 8.65m |
| Telescoping Speed | 6.12m/20 seconds |
| Boom Type | 5 section hydraulically telescoping boom, hexagonal box construction |
| Derricking Angle / Speed | 0 – 78˚/11 seconds |
| Slewing Angle / Speed | 360˚ (continuous) 1.5min rpm |
| Traction | hydrostatic, stepless forward and reverse |
| Travel Speed | 0 – 2.3km/h |
| Gradability | 20 |
| Track Ground Length | 1050mm |
| Track Ground Pressure | 48kPa (0.49kg/cm²) |
| Track Width | 180mm |
| Fuel | 6 litre petrol tank with LPG option |
| Other Features | computer controlled moment limiter (safe load indicator), radio remote control, overwinding alarm, computer controlled intelligent voice warning system, multi-function operation by radio remote control, intelligent throttle activation, automatic hook stow, overload warning alarms, overload warning lamps, working area limitation |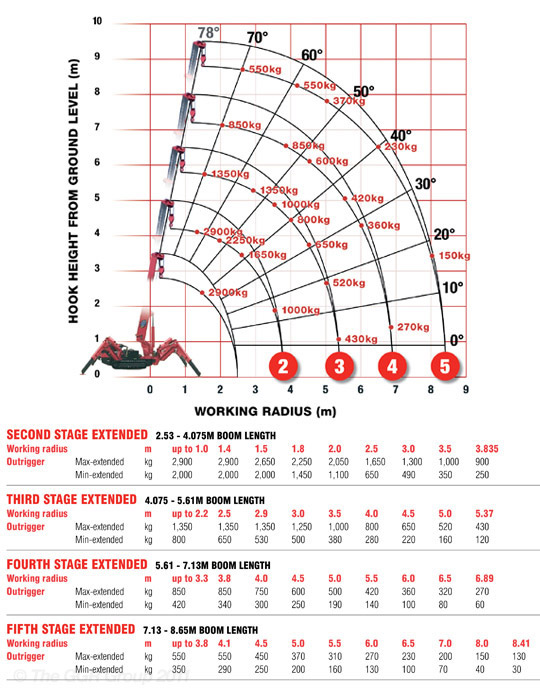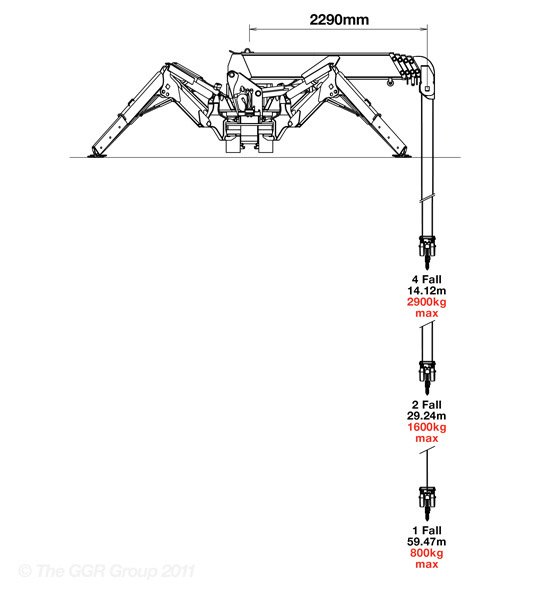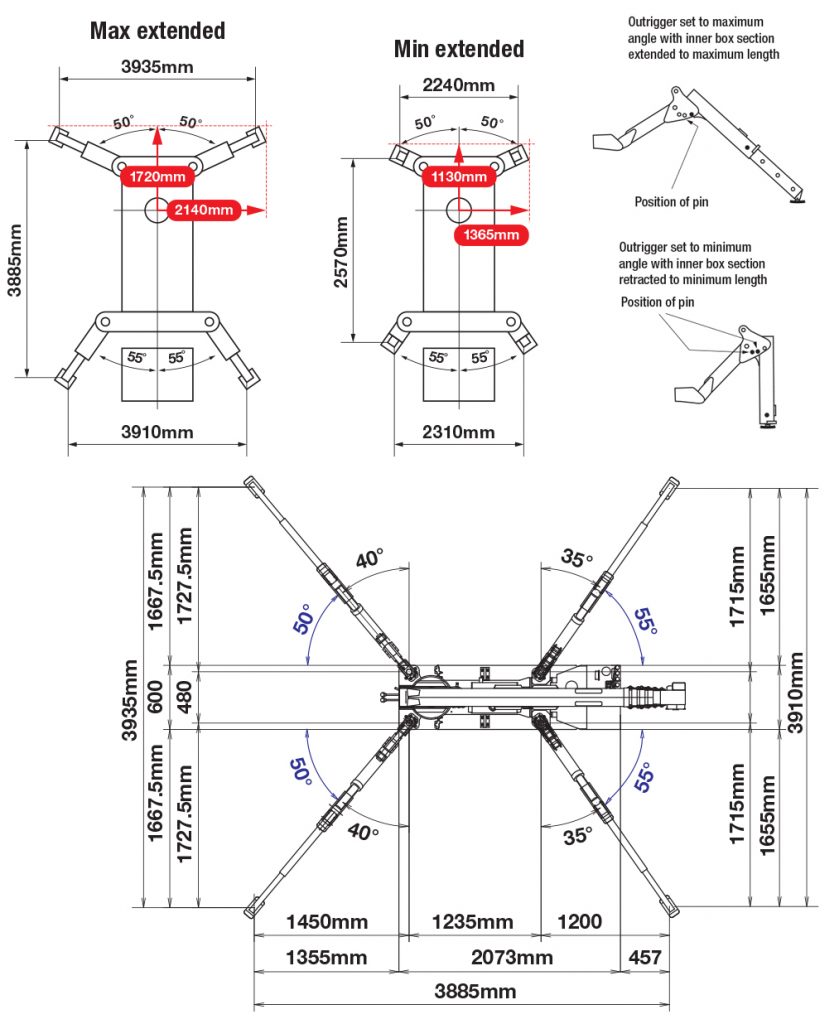 What Some Of Our Existing Crane Hire Customers Have To Say
We needed a spider crane to move some heavy building materials into our garden and access was tight. We used Dales Water after a recommendation and the service was fantastic. Saved us from having to tear down our fencing! Thanks.
We are extremely happy to recommend Dales Water – we have used them on a number of occasions over the last 10 years and have always found them to be professional and supportive at all times. Service has been excellent.
We have used Dales Water's spider cranes in our parks for a number of jobs. From initial enquiry with them, I have found them to be reliable, professional and creative in delivering the exact solutions for our needs.
Tell Us About Your Mini Crane Hire Requirements
If you're interested in hiring one of our mini cranes and require some more information or would like us to give you a quote please fill out the form below or email cranes@daleswater.co.uk. You can also call us on 01765 640 646 during normal working hours.
[contact-form-7 id="5020" title="Mini Crane Hire"]
A member of our team will get back to you as soon as possible. We aim to answer all crane hire enquiries within 24 hours.